Turndown Collection
Turndown signals the wind down, so ditch the stimulating chocolate and offer a treat that really says good-night. LATHER's travel-friendly, natural turndown options will soothe, refresh and delight day or night. Packed with nurturing botanicals and mood-improving aromatherapy, they offer affordable pampering by the ounce (and they're all calorie-free).
Make sure they hit the pillow happy!
Set sweet dreams in motion with these happy, healthy products designed to improve anyone's bedside manner: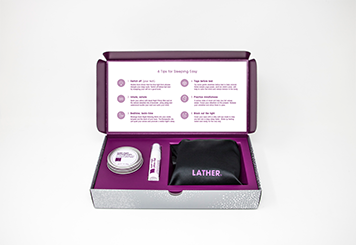 Sweet Dreams Sleep Kit
Our Sweet Dreams collection helps guests unwind their mind and prepare for sleep. Enjoy the soothing, natural essential oils of lavender and ylang ylang in our quiet night pillow mist and aromatherapy balm and get your best rest with a silky eye mask and our top sleep tips.
+ Quiet Night Pillow Mist 5ml
+ Quiet Night Relaxing Balm 1oz
+ Silky Eye Mask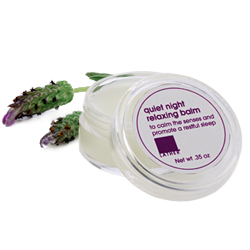 quiet night relaxing balm
LATHER's new, all-natural relaxation balm will ensure a quiet night, a rested mind and a well-cared for guest. Infused with essential oils to calm the mind, quiet the senses and promote a better night's sleep. Net wt 0.35 oz
+ lavender essential oil soothes and balances
+ ylang ylang essential oil calms the senses
+ rose hip oil conditions the skin
+ olive oil provides essential vitamin
inner peace meditation balm
Designed to promote balance, mindfulness and bliss, our all-natural aromatherapy balm is formulated with precious essential oils of frankincense, sandalwood, vetiver, cypress, bergamot, orange and ylang-ylang for a grounding, relaxing and calming effect. Apply to wrists, temples, forehead or under the nose to feel centered and open to enlightenment. Includes a 10-day free trial of the StopBreatheThink app for guided meditation. Net wt 0.35 oz
+ frankincense essential oil has restorative and purifying properties
+ vetiver essential oil has soothing and grounding properties
+ bergamot essential oil has calming and clarifying properties
+ ylang-ylang essential oil has uplifting and balancing properties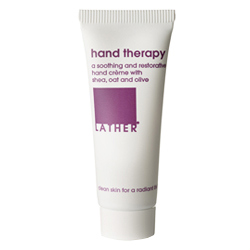 hand therapy
This therapeutic, fast-absorbing hand crème relieves and revives active, weathered, very dry hands. Formulated with shea butter, oat kernel extract and olive fatty acids for their soothing, restorative, protective and moisturizing properties, hands feel soft, smooth and more comfortable. Net wt 0.5 oz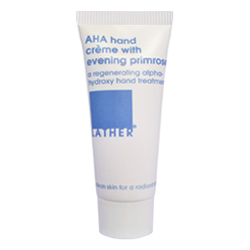 AHA hand crème
An unbelievably rich hand treatment containing alpha-hydroxy acids that encourage skin renewal, effectively minimizing the appearance of wrinkles and age spots. Evening primrose, lemongrass and chamomile keep hands soft and healthy looking. Net wt 0.5 oz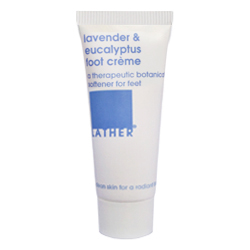 lavender & eucalyptus foot crème
Soothing herbs including lavender, eucalyptus, sage and arnica help stimulate the feet and increase circulation, while seaweed extract, squalane and aloe vera restore moisture and softness. This unique foot crème helps relieve calloused heels and tired, puffy feet. Net wt 0.5 oz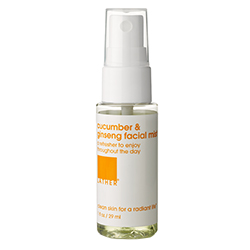 cucumber ginseng facial mist
While cucumber and algae extracts help refresh and tone the skin, ginseng helps to strengthen and revitalize for a fresh look. For use after cleansing, after shaving and throughout the day to soothe, tone and refresh. 1 fl oz
lip balm – broad spectrum SPF 15
Certified organic sunflower seed, plus extra virgin olive and hemp seed oils moisturize with antioxidant vitamins and essential fatty acids, while aloe vera soothes and pure beeswax forms a protective barrier against the elements. Available in: Net wt 0.15 oz each
+ citrus
+ spearmint
+ unscented



aromatherapy candles
LATHER's aromatherapy candles are specially formulated with a paraffin-free, 100% soy wax that burns toxin-free, carcinogen-free and allows the full dispersion of our pure essential oil blends. The wick is made from 100% spun cotton and primed in beeswax. Available in: Net wt 1 oz each
+ lavender
+ lavender lime
+ cranberry orange
+ cinnamon orange & clove
+ lemongrass
+ peppermint
sample packets
Our collection of sample packettes addresses a wide range of skin types and body care needs, from head to toe. The gentle and effective formulations combine moisturizing, nourishing and soothing botanicals and precious aromatic essential oils.
body crèmes and butters:
+ almond milk & honey body butter
+ bamboo lemongrass body crème
+ coconut crème body whip
+ sofian lavender whipped body crème
hands & feet
+ AHA hand crème
+ lavender & eucalyptus foot crème
pain relief:
+ muscle ease gel with botanical pain relievers
face cleansers:
+ blemish control cleansing gel
+ cucumber milk facial cleanser
+ ultra mild face wash
exfoliators:
+ bamboo silk foaming face scrub
+ sweet almond exfoliating crème
moisturizers:
+ AHA facial therapy
+ sweet almond face moisturizer
+ ultra light face lotion
mask:
+ honey moisture mask
eyes:
+ licorice root eye treatment
hair:
+ avocado mint hair repair
shave:
+ almond shave crème